RS-3420 3.5T brushless motor | Scorpion
Scorpion ha introdotto il motore elettrico brushless RS – 3420 in configurazione 3.5T.
Il motore super-veloce modificato è utilizzato al meglio sulle 1/10 Touring, è dotato di un rotore 12,5 millimetri per la massima coppia, potenza e le prestazioni di frenata.
12,0 millimetri opzionali ad alta velocità e rotori 12,3 millimetri a tutto tondo possono essere acquistati per mettere a punto il motore per diverse condizioni della pista.
Come per tutti i motori della serie RS- 3420 la variante 3.5T dispone di una vite superficiale dei rotori per un migliore raffreddamento, dotato di un ventola di raffreddamento, così come un sensore di temperatura integrato.
Scorpion have introduced the RS-3420 electric brushless motor in 3.5T configuration. The super-fast modified motor is best used in 1/10th Touring Car and 1/12th scale applications and it is equipped with a 12.5mm rotor for maximum torque, braking power and performance. Optional 12.0mm high-speed and 12.3mm all-round rotors can be purchased to fine-tune the motor to different track conditions. As with all RS-3420 series motors the 3.5T variant features a screw-type rotor surfaces for improved cooling, a built-in cooling fan as well as a built-in temperature sensor.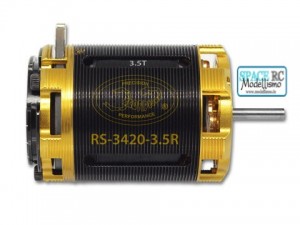 Scorpion RS-3420 3.5T brushless motor